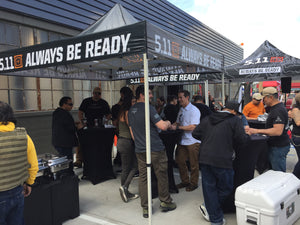 5.11 Tactical Commerce Grand Opening
5.11 Tactical (Headquartered in Irvine, CA), opened their newest store in the City of Commerce, California on Saturday, March 25th.  As a proud partner of 5.11 Tactical, we were once again invited to participate as a vendor during their Grand Opening Event.  The event drew a large crowd, some tailgating in the parking lot since the early morning (That's how dedicated 5.11 Tactical fans are).
We are continuously grateful for their on going support and look forward to announcing new collaborations with 5.11 Tactical.
5.11 Tactical CEO Tom Davin addressing the crowd.
Parking lot filled with fans coming out to celebrate the opening of the latest 5.11 Tactical store.
Color Guard posing for a press photo.
Joe Mantenga of the show Criminal Mind officially opened the store for business with 5.11 Tactical's trademark alternative to a ribbon cutting, a door breeching ceremony.
Customers in line stocking up on tactical gear.
Surf City Paracord CEO, Gregg Pastore manning our booth.
Our ever popular M-550 Series Bug Out Frags were a hit.  Check out the new Zombie Decay, second from the left.
Truly a work of art.  An American flag hand weaved out of Paracord.  Made by Paracord Artist Rich Setzer from El Cajon.  Surf City Paracord has recently partnered with him to make his amazing flags.  Will be available on our website soon.
Our line of stitched, Thin Blue Line Paracord Bracelets, Sheriff, Z.E.R.T. and other high quality bracelets, all made by Surf City Paracord.
---