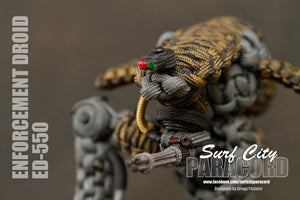 Gregg's Paracord Art Gallery
Since their start in 2013, Surf City Paracord has been a leader in innovative paracord products.  Here is a collection of their most well known original paracord creations, created by Gregg Pastore.
Paracord Snowman - Surf City Paracord's first original creation.
The Paraborg, crude by our current standards, but it put us on the map as the first ever paracord action figure.
Following the creation of the Paraborg was a series of paracord firearms.  The AK-47 (below) is one of our first attempts.  Compare with the AR-15 (above), made using more advanced techniques that we innovated. 
Another early attempt at making firearms.  Picture below is what was supposed to be a shotgun.  Not much thought was put into it.  The shotgun pictured above shows our progression from simple concept to a more detailed, realistic piece.  Notice both use cut up scrap cord for shotgun shells?
Born after the Paraborg, the Paracord Ninja keyfob has been a number one best seller.
Inspired by Robocop, Star Wars, Metal Gear, the ED-550 was one of Surf City Paracord's more advanced figure.  By this time our level of detail and craftsmanship was drastically improving.  The figure featured movable leg joints, a rotating turret and movable gun and sensor array.  
#StarWars AT-AT and Snow Speeder concept that was never finished.  One of these days, we'll make another pass.
Paraborg Version 2. Simple with not a lot of support.
Paraborg Version 3.  Improved design with added wire support in the arms, fingers and legs allowing better stability and ability to pose the figure.
Inspired by the strategy game Command and Conquer, this hovercraft was our first and only vehicle made to date.
The original M-550 Paracord Grenade that propelled Surf City Paracord into a major player in the Paracord Industry.  We still have this prototype on our shelf.
The M-550D our first mass production model with an improved design and color scheme.  This model with it's kit content eventually became the mid model until it was discontinued in 4th Quarter 2016.  It will be replaced by the M-550 Pro Compact.
The short lived Holy Hand Grenade from Monty Python and the Holy Grail.  While discontinued a couple years ago, Oddity Mall found a picture and included it in their video featuring our grenades.  We had about a thousand emails asking if customers could order them.
A year after making the AK-47, we set out to improve our firearms and came up with the rifle above.  Much improved over the previous attempts.
A paracord sniper rifle with folding bipod and removable magazine.  This design set the stage for our current designs.
Mini Gun utilizing 550 Paracord and 95 cord.  Yes, the barrels do spin.
Continuing the outdo our previous work with an AR-15 sniper rifle.
M4 with an M203 Grenade Launcher, red dot sight and Surefire style flashlight.
550 Armory.
Some Star Wars Love.  DL-44 carried by Han Solo
Darth Vader's Lightsaber.
---
5 comments